Las Vegas Dog Bite Attorney G. Dallas Horton:
In the unfortunate event that you or a loved one have been bitten by a puppy or a fully grown dog, you might at first think that it is not very severe. It feels like a little break in the epidermis (outer layer of skin). Maybe you first informed the dog's owner that you're fine, and you don't need a Doctor.
But , the punctured area gets red and seems bloated. You're afraid of making a bid deal out of it, but are you really making a huge deal when your skin is acting up? Can this usually friendly dog have induced any actual Harm? After all, he is such a little thing, adorable, and "didn't mean to bit me".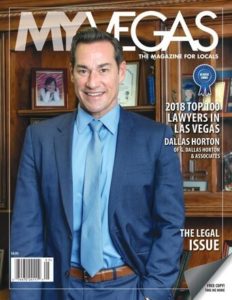 Be mindful! Dog bites can be quite tricky. A tiny little break from the skin may actually become a life threatening illness or involve muscle or limb damage you're unaware of in the beginning.
Do you know that the ordinary price of a dog bite claim is near $25,000? Or that that dog bite settlements average around $300 million yearly?
In the event that you or a relative is a victim of an unprovoked dog bite, first off, seek prompt medical attention. However little the wound is, get seen by a medical professional asap. Following a correct medical exam, you will have a much better understanding of wether you need to file a dog bite case.
Don't be reluctant to seek out the assistance of a seasoned dog bite lawyer. You will most likely need help to ascertain whether you ought to file a bite claim against the pet owner's homeowner's insurance coverage. Part of an experienced dog bite lawyer is going to do will be to evaluate your specific situation, examine the incident as well as the harms involved and also help determine how to achieve a favorable settlement for your benefit.
It's fairly common to believe you can not afford to employ a dog bite attorney that will assist you with your claim, however that is often inaccurate. Most of the time, many dog bite lawyers such as those at G. Dallas Horton and Associates take cases such as these at a contingency fee basis. This means that you don't pay anything upfront, and instead, we receive our fee only from the profits from the settlement.
We will initially meet together and examine the situation and the law included. This is only 1 reason to keep an experienced dog bite lawyer with the understanding of the legislation and also the expertise in handling insurance companies that will cause the ideal dog bite compensation for you.
G. Dallas Horton & Associates have successfully resolved many cases in Las Vegas, including many Back and Neck Injury cases. Here are results from a few of our cases:
$1 million for Wrongful Death
$8.9 million for Motor Vehicle Accident
$5.4 million for Sexual Abuse
$2.975 million for Leg Injury
$2.25 million for Constructive Fraud
Dog Bite Frequently Asked Questions (FAQ)
What should I do immediately after getting bitten by a dog?
If it is safe to do so, call an attorney immediately. If you are seriously hurt go to the doctor and get your wounds checked out. Then call an attorney. He or she will advise you to immediately report the dog to animal control and request that it be quarantined.
How much does a dog bite lawsuit cost?
Our fee is based on a percentage of the recovery. The court costs we advance on behalf of our client can vary depending on how complicated the case is, or whether it settles before litigation. Costs can range from one hundred dollars to hundreds of thousands of dollars, depending on the case.
Should I get a lawyer for a dog bite?
Yes, one should always get an attorney for a dog bite case.
Can you sue for a minor dog bite?
Yes, unfortunately even minor dog bites are emotionally traumatic and require the prescription of antibiotics to avoid infection.
What is the statute of limitations on a dog bite?
The statute of limitations in Nevada on a dog bite is two years.
How long do you have to report a dog bite?
You have two years to make a claim in the state of Nevada. However, generally it is best to report things as soon as possible.
How much is a dog bite settlement on average?
That depends on the severity of the dog bite. Dog bites do not have simple averages. There is the dog bite where the skin is punctured and we go to the doctor for prescription of antibiotics and one follow-up appointment to confirm the infections gone which is only worth a few thousand. There is also the dog bite where someone lost an eye and required hundreds of thousands of dollars of plastic surgery to correct their face. Then there is the most sever dog bites that result in brain injury and death. These cases can be worth thousands and unfortunately can also be worth millions.